To book Mr. Glazer for a personal appearance or iChat, please contact info@evolutionofdad.com for availability and rates.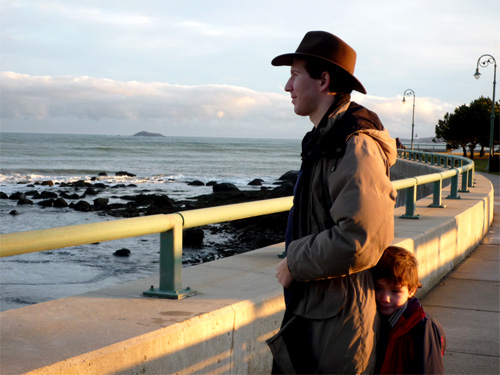 Dana H. Glazer grew up in Newton, Massachusetts and began making movies when he was nine years old, shooting clay-mation films in his basement with the help of his grandfather and a trusty Super-8 camera. Later, he attended Bowdoin College in Maine and then studied filmmaking at NYU's Graduate Film Program.
Dana's NYU graduate thesis film, "Intermezzo", a romantic ghost story, won a Student Academy Award in 1998. In 2002 Dana sold his original script, "Rise, Sons of Bowdoin", an epic civil war story about Joshua Lawrence Chamberlain, to Warner Brothers for director Mimi Leder ("Deep Impact") and producer John Wells ("ER", "The West Wing", "Far From Heaven".) As a result, Dana became a member of The Writers Guild of America and the sale was featured on the front page of the Hollywood Reporter.
Currently, Dana lives with his wife and three young children in New Jersey. Besides "The Evolution of Dad," Dana recently completed a new documentary, "Parents of the Revolution" which follows activist parents inside of the Occupy Wall Street movement. www.parentsoftherevolution.com
On June 9th, 2014, Dana was invited to The White House to present "The Evolution of Dad" at a fatherhood event.