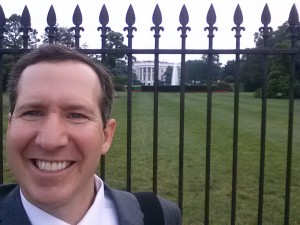 There are a few days that I think of as high points in my life and being invited to play a clip of The Evolution of Dad at the White House Working Dads Summit on Monday certainly stands among them. It was a day that I will always remember for many reasons: it was the first time a presidential administration has brought attention to the dads who struggle with balancing work and family. This was a day that validated the importance of dads spending more time with their kids. It was a day that I hope will be the beginning to a larger cultural conversation about the real significance of dads.
As I expressed in my film, when my first son was born I felt both exhilarated and isolated. I was a hero to my son and yet perceived as a zero to the rest of the country. The purpose of making the film was to better understand these feelings as well as to connect with other fathers who shared similar pangs.
As a result of making The Evolution of Dad, I was able to make some long-lasting relationships with some amazing fellow dads, experts and crusaders for changing the cultural understanding of fatherhood. As I state at the end of the film, I didn't feel alone anymore.
However, as much as the film received solid media attention, was embraced by the dad blogger community and is now taught at close to 200 colleges and universities across the globe, I have always felt that the film and the ideas that it espoused have been largely overlooked by our country.
Until now.
Monday at the White House was like a great family reunion for me. Matt Schneider, Lance Somerfeld and a whole slew of City Dads Group members were there.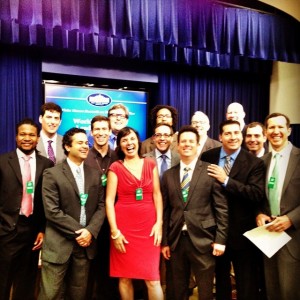 Jessica DeGroot, who has championed dads and work/family balance issues for years with her wonderful Third Path Institute sat next to me.
Kyle Pruett and Scott Coltrane, both fatherhood experts from my film and elsewhere were present to give a talk.
The White House Chief of Staff Denis McDonough was there to share how he plans to skip an upcoming event with the President because of a commitment to his daughter.
I got to meet some fantastic new people like Doug French, co-founder of the Dad 2.0 Summit, Blogger and fellow Fairleigh Dickinson Professor Scott Behson, author Paul Raeburn, Ellen Bravo from Family Values @ Work,  Kipp Jarecke-Cheng, David and Ryan from Life of Dad, Rachel Laser of Religious Action Center and so many others.
We even had a New York Mets baseball star, Daniel Murphy, come speak about his experience with taking paternity leave.
My hat goes off to Jeremy Joseph, Deputy Counsel to the Vice President, who really was the one that made this whole event happen – and made me personally feel incredibly special. When I initially arrived, Jeremy brought me to my reserved seat.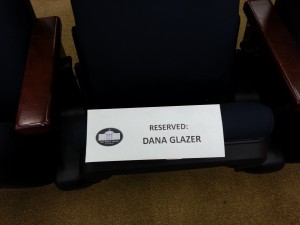 They played a clip from my film and then Jeremy had me stand up and take a bow. I have to admit that I nearly cried. To think how isolated I had felt when I started off being a father and now to be embraced in such a special, meaningful way – well, I just have to say it was truly one of the best days of my life.
Even though I'm onto other film projects, my heart and soul always remains with The Evolution of Dad. The cameras may no longer be rolling but the role of being a dad remains and my eyes and ears are always observing, listening to the many dads I still encounter and the struggles that they have.
So, if you are a dad and know the feelings that I have had; if you know the pressure of trying to make ends meet while trying to spend more time with your family; if you know the feelings of exhilaration of being a dad but also the sense that our culture isn't necessarily supportive of you then take solace in knowing that you are not alone.
Happy Father's Day!