NYC Tri-State Area

The primary goal, of our diverse group of over 150 caring fathers, is to provide at-home Dads and other involved fathers an opportunity to socialize and support each other as we navigate parenthood. We, along with our kids, meet at least weekly at various venues around the city including museums, parks, indoor play-areas, parent-and-me classes, etc. There are not enough resources, support groups, or services for dads in NYC. This group is the pioneer in achieving more for dads in NYC!
San Francisco Bay Area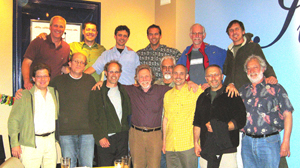 The Fathers' Forum Programs offers an online resource for expectant and new fathers. Information, resources, articles and videos to help men make the transition from "man to dad." Dr. Bruce Linton offers a guide for the 3 trimesters of pregnancy for men as well as a month to month guide for the first year of fatherhood.

The Playground Dad™ events section connects modern dads with events in the San Francisco Bay Area. We're adding more cities in 2010. If you'd like Playground Dad™ to feature events in your city please contact us!
*All information appearing on this page has been provided by the individual web sites.