Congratulations to Jeff Gillenkirk and the folks over at Chin Music Press on the launch of Home, Away earlier this week!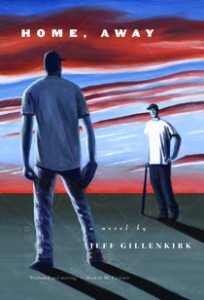 Home, Away is the story of Jason Thibodeaux, a man with a $42 million contract to pitch for the Colorado Rockies and a romantic bachelor lifestyle when the son he lost in a searing custody battle reappears in his life. The book follows Thibodeaux's colorful rise to the pinnacle of Major League Baseball and his agonized decision to quit in the prime of his career to care for his troubled son.
Jeff Gillenkirk is an author and journalist whose articles and book reviews have appeared in The New York Times, The Washington Post, The Miami Herald, Los Angeles Times, San Francisco Chronicle, Parenting magazine, The Nation, Mother Jones, America and other publications. His nonfiction book Bitter Melon: Inside America's Last Rural All-Chinese Town won the Commonwealth Club's Silver Medal award for best California history.
"This is a charming tale filled with sounds, scenes, and sensibilities that are real and vivid. Fatherhood, childhood, baseball, and marriage are all portrayed with profound and moving truthfulness." — Mario M. Cuomo, former governor of New York